Author – Mayank Kumar Jain
Spokesperson Department of Journalism and Mass Communication
Mangalyatan University Aligarh
Vatsalya – embodiment of compassion – Acharya Pramukhsagar Ji
Chandanam Shitalam Loke Chan Moon.
Sheetla in the pair of moon and sandalwood: sadhusangati:॥
Presently you are a well-known and respected spiritual saint of Shramana culture. You are a well-known and knowledgeable disciple of Ganacharya Pushpadant Sagar Ji Maharaj, a representative of the Vitraagi Digambara Jain Shraman tradition, who is in the tradition of Acharya Adisagar Ankalikar, Acharya Mahavirkirtiji, Acharya Vimalsagarji and Acharya Sanmati Sagarji Maharaj, in the tradition of the current ruler Lord Mahaviraswami. And with their Aagam-friendly behavior and knowledge, they are making the Namostu regime victorious.02 years ago in 2021, when I got the opportunity to meet you in the Journalist Editor Association seminar to be held during Etawah Chaturmas, I was overwhelmed by your love and blessings and it felt that –
Those who have an unbroken stream of knowledge in their mind,
The practice of penance, renunciation and restraint is immeasurable.
The influence of religion is as per the teachings.
Thousands of salutes to such a brave Mahamsagar ji.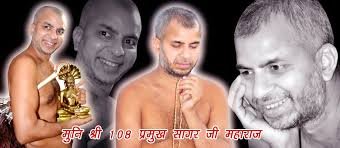 It has often been seen that the main objective of Gurudev has been to influence religion. In the same spirit, always worship Gurudev by inculcating more and more people on the path of religion, spreading the word of Jina, awakening the light of knowledge among the wise, showing the right path to the people who are away from religion, and at the same time doing self-welfare while maintaining self-control and character. You are always engaged in the field of education to establish social unity and along with this, you benefit everyone in the spirit of public welfare. You have enlightened the common people through sermons and discourses in many schools, colleges, courts, Rajya Sabhas and Legislative Assemblies. It has done an important job of removing the evils of the worldly life of the people and leading them on the path of religion. And the special thing is that the common people should give up the evils of mutual discord, animosity, ideological differences etc. and bring good things to the human society with love and brotherhood. You have made an exemplary contribution in coming towards the world, as a result of which I have got the opportunity to connect with you today and there is no doubt that I have benefited from your blessings in my personal life. Gurudev – I am in front of you today because of all the Gurus. I am the fruit of auspicious blessings and guidance.
And it is also said that —-
only they get the destination
Whose dreams have life.
Feathers don't do anything,
Flying happens with courage.
Under your guidance, a significant and significant contribution has been made with dedication and dedication in the construction, conservation, renovation and development of pilgrimage areas. Acharya Shri has constructed pilgrimage centers at many places. Acharya Shri has special interest in self-study, reading and meditation of a saint and education including the rites of pilgrimage, non-violent treatment and self-welfare and welfare of the people. Many sages have attained Samadhi under the guidance of Acharya Shri. Acharya Shri Pramukh Sagar ji has been honored with many titles by various Jain and Ajain institutions and organizations all over India. Under your guidance, the grand Panchkalyanak events were successfully completed in the major cities of India, and you completed the 50,000 km march across 20 states. This is a matter of pride for everyone. And many of the works written by you like 1. Balihari Guru Apni, 2. Grihastha Geeta, 3. Pravachanmala, 4. Mere Guruvar, 5. Namokar, 6. Namokar Part-1 etc. are based on life style like values, social unity, morality etc. is.

Your Sanghastha Munishree Prabhakar Sagar Ji Maharaj's affection is often received and discipline and affection are seen every time in your Sangha and all the Sadhus and Sadhvis of your Sanghas are constantly engaged in self-study, penance and meditation.
After being inspired by Acharya Bhagwan, my perspective changed and I developed an attachment towards Jain Shramans and Sadhvis. Along with this, on this occasion, I also got the opportunity to donate food to Acharya Bhagwan and his Sangha in Etawahnagar. With your inspiration, I remain engaged in social and religious activities. That is why I believe that the architect of my life is also Acharya Pramukh Sagarji.
The only reason for being connected with Acharya Bhagwan from then till today has been Gurudev's blessings and immense love. Gurudev is full of various disciplines with Vatsalyamurthy and I have been continuously getting to learn new things from Gurudev at every step. For example, I have got the benefit of participating in many events, conferences, scholarly seminars etc. held in the presence of Gurudev.
Gurudev Pramukhsagarji is rich in many genres like music, poetry, writing, sharp and energetic statement, preacher and skilled administrator etc.
Every bhajan and poetry recitation sung by Gurudev Pramukhsagar ji moves me towards spirituality, but whenever I listen to your voice, I feel as if I have assimilated it within myself. All the compositions, hymns, rituals, pujas, drama collections and many verse translations etc. written by Gurudev are filled with spirituality.
In the present times, due to his knowledge, his Aagam friendly behavior and the influence of Aagaam compatible Piyush Varshani Pramukh Vani, he has proved to be the flamingo of the spiritual lake. Your affection, simplicity and spontaneity are also like this.